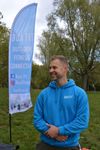 What you will be doing
It's time to torch. Set alight those calories. Burn through your body's barriers. Set ablaze your muscles.
Join Adam for a 45-minute high intensity class. One of the most efficient workouts that will keep burning calories long after you've left. If you're short on time, but not on enthusiasm (or even masochism) this is for you.
Routine
All over body exercises. Expect plyometric delights, jumping, agility moves, drop squats, lunges, mountain climbers, skater jumps and on. No muscle will be left untouched. With Adam on hand to perfect your form you won't want to cheat yourself by giving it less than your absolute all.
This is FUN with a capital F. Slide through advanced training programs in tabata, EMOM (every minute on the minute), AMRAP (as many rounds as possible) and superset styles, with rounds getting progressively more difficult. If you're ready to hit the next level and get in peak physical condition, JOIN NOW.
Notes
Meet me at the corner of the park and bring water.