HIIT With Shane Campbell At The Scoop
Community Class
What you will be doing
World's most efficient workout by the Thames. No equipment just your bodyweight.
If you're looking to feel the burn, HIIT (high-intensity interval training) is for you.
Championed as the secret to anti-ageing and building a healthier heart, HIIT workouts torch and tone fast.
Cardio blasting 🌬️
Self-confidence boosting 💙
With clear, concise, and easy instruction 📣
This is a euphoric way to exercise and fight against our sedentary lifestyles. Everyone welcome.
Routine
A sweat drenched carousel of bodyweight exercises arranged as short bursts of (very hard) work followed by periods of rest. Join for an full body blitz with moves that hit every muscle group. No tendon will be spared.
Notes
The perfect re-wind after time in the city. Join us for a Thameside super social workout overlooking City Hall and Tower Bridge.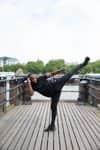 I have always had a passion for sport & fitness, and have studied sport science & stayed extremely active my w...
All BUA classes with no client bookings get removed from the platform 48 hours before the start-time.