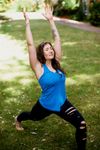 Sunrise Morphology Flow Yoga (in the park 🌲 🌸)
£15.00
Included in a BUA Unlimited subscription - find out more
What you will be doing
Forget what you know about yoga and come with me on a journey of insight and wonder in your own body.
Every week we explore a body system through movement, breath and meditation.
Intermediate as some knowledge of foundational postures is assumed.
Location may change but will be within walking distance of Chiswick and surrounds.
Routine
I will change things as needed but the usual routine will be this:
🌬Breathing and arrival 🫶Gentle movement to warm up 🦵Standing postures to activate 🤸🏻‍♀️Dynamic/challenge postures 🧘🏻‍♀️Gentle cool-down ✨Relaxation shapes and relaxation
Notes
Meet at the stone bench sculptures
Bring water, a mat, and something warm in case it's chilly!

All BUA classes with no client bookings get removed from the platform 48 hours before the start-time.