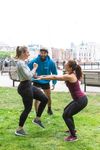 HIIT and Run 👊🏃‍♂️🏃🏿‍♀️
£9.50
What you will be doing
Tired of the same tree? Run away !
Routine
First dynamic class that will bring you around different spots of the park ! High intensity workout that mix cardio and strength ! What to expect: Warm up at the meeting point, then run between the different stations . Each station will include a full body combo --- guaranteed to make you feel the burn! Get ready to jog , run and sprint!! Class end with a power walk to the meeting point where we will do a nice cool down and stretches!
Notes
Meet at the kids playground - bring just water 🍹and maybe a towel 😥 😥


Hello Ciao ! I am a personal trainer for more than 4 years. Also I have a Sport Science Degree and Sport Mass...
All classes with no client bookings get removed from the platform 12 hours before the start-time.