Online Class
Every Tuesday

Online Class
You will be sent a link to the stream 15 minutes before the class starts.
What you will be doing
This class is for anyone who would like to try yoga. It is also for those who are taking it a little slower. It's still a strong class and a deep stretch. Just the poses are explained more. An enjoyable and relaxing Tuesday night flow.
Routine
Breathwork to calm the mind followed by gentle warm up. We move through a yoga sequence where I introduce new poses. This is the heat building time of the class, then we cool down with some deep stretching and savasana. Deep relaxation from the comfort of your own home.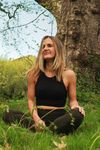 I'm an Irish yoga and meditation teacher. Join me live from Dublin where I welcome you warmly and share a nour...