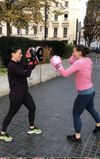 Online Class
Every Tuesday
Fighting Spirit Boxing
£6.50
Online Class
You will be sent a link to the stream 15 minutes before the class starts.
What you will be doing
"Fighting Spirit Boxing" class is a 45 mins intense Boxing workout which focuses on boxing techniques, mindset development and general fitness. Learn how to be resilient and fight to be your best self!
Routine
5 mins warm up
30 mins Shadow Boxing & exercises
10 mins abs & cool down
Notes
Please, have yoga mat to exercise on and a lot of energy to survive the session is all they need.

ABA Level 1 & 2 Boxing Coach, Afewee Brixton Bc Lead Coach For The Senior Team, Team Tieu Combat Coach, Kickbo...