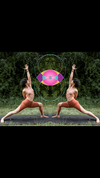 Power Vinyasa Yoga Flow 🧘‍♀️ ✨
£9.00
What you will be doing
Carola's classes are inclusive, open to all levels, regardless of your strength, flexibility and shape. Carola's classes focus on alignment, core strengthening, going onwards and self-enquiry. Carola takes a functional approach to Yoga rather than an aesthetic one.
Routine
Core strengthening Sun Sanitations (various modifications and styles) Standing sequence (changing every week) Balancing sequence Seated sequence (stretching) Savasana
Notes
Meet at the parking lot in the middle of the park (follow the road at the entrance)


Carola is a passionate Power Vinyasa and Yin Yoga teacher. Carola's classes are inclusive and open to all leve...