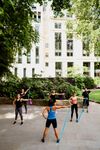 Mobility and Self Massage 🤸‍♀️💜
£9.00
What you will be doing
This class can be a great addition to any fitness regime and is suitable for all levels. If you feel your body needs some TLC this may well be the class for you!
We will be performing mobility exercises, dynamic and static stretches and SMR (Self Myofascial Release) with a view to focusing on self care and looking after your body.
Mobility exercises can help you increase your range of motion, improve technique and reduce your risk of injury. Mobility training can be useful for both those who have done too much sport or exercise, or too little movement due to a more sedentary lifestyle, and everyone in between!
Self Myofascial Release is also a great way to reduce your risk of injury and ease tension and pain in your muscles.
Routine
Starting off with a series of dynamic stretches, followed by rounds of mobility exercises focusing on all areas of the body, finishing off with static stretches and SMR using trigger point massage balls.
Notes
Meet at the pin drop 📌 on the lower terrace overlooking the Bowl.
Please bring a mat if you have one. If you don't no worries, just pop me a message before your first class and I will bring one for you.


South London based outdoor group fitness fanatic! Offering HIIT, Core, Strength, Mobility and Trampolining C...
All classes with no client bookings get removed from the platform 12 hours before the start-time.