What you will be doing
Connect with yourself and the natural world around you with this fun and flowing vinyasa yoga class. This class helps to gently build strength, stability and flexibility. Most importantly, you will find space in your body and mind and leave feeling strong and renewed. ☀️
Routine
We will move mindfully through a sequence of postures, linking movement with our breath. We'll start off warming up with some sun salutations before moving onto balancing and stretching postures, finishing with a gentle cool down and relaxation.
The class is suitable for all levels and I will give variations for those who want to take it gently and those who want a challenge.
Notes
Bring a yoga/exercise mat if you have one and a bottle of water. If you don't have a mat you may find it useful to bring a towel to practice on.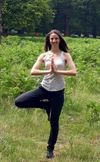 I am a London based Registered Yoga Teacher (RYT 200) and I am passionate about helping others find space in t...