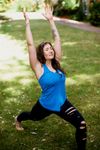 Sunrise Hatha Yoga (in the park 🌲 🌸)
£15.00
Included in a BUA Unlimited subscription - find out more
What you will be doing
Hatha yoga with Jazmin
Hatha yoga is the ancient art of cleansing and preparing the body and mind for meditation.
Jaz blends old-school practice with new-school anatomical exploration in a way that offers a grounded and expansive movement meditation experience.
Come and be curious.
Intermediate as some knowledge of foundational postures is assumed.
Location may change but will be within walking distance of Chiswick and surrounds.
Routine
I will change things as needed but the usual routine will be this:
Each week you can expect: 🌬Arrival and breath 🫶Gentle warm up poses 🦵Standing poses for strength 🤸🏻‍♀️Something dynamic and challenging 🧘🏻‍♀️Cool down and meditation ✌️Relaxation
Notes
Meet at the stone bench sculptures
Bring water, a mat, and something warm in case it's chilly!

All BUA classes with no client bookings get removed from the platform 48 hours before the start-time.