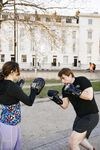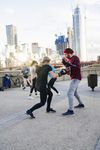 Fighting Spirit Boxing Pimlico
£12.50
What you will be doing
​Fighting Spirit Boxing Pimlico Are groups of maximum 12 people, focusing on boxing techniques and general fitness. Classes are held in a private place in Pimlico hidden from the public with a beautiful view of the Tames river.​
Routine
10 mins warm up 40 mins boxing technique (pad work) 10 mins abs & cool down
Notes
Please bring a pair of boxing gloves and a yoga mat to exercise on it.


ABA Level 1 & 2 Boxing Coach, Afewee Brixton Bc Lead Coach For The Senior Team, Team Tieu Combat Coach, Kickbo...
All classes with no client bookings get removed from the platform 12 hours before the start-time.