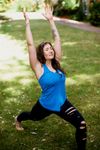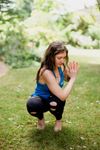 Hatha Yoga with Jazmin (in the park 🌲 🌸)
£15.00
Included in a BUA Unlimited subscription - find out more
What you will be doing
Come with me on a journey of insight and wonder in your own body.
Every week we explore a body system through supine and seated poses, breath and meditation.
In this slower edition of Saturday's class we continue the theme from the sunrise class with an active recovery. The shapes help especially to discharge excess energy from the bones which prevents long term injury.
Intermediate as some flexibility is needed without props: should you have your own you are welcome to bring them.
Location may change but will be within walking distance of Chiswick and surrounds.
Routine
I will change things as needed but the usual routine will be this:
🌬Breathing and arrival 🫶Gentle movement to warm up 🦵Standing postures to activate 🤸🏻‍♀️Dynamic/challenge postures 🧘🏻‍♀️Gentle cool-down ✨Relaxation shapes and relaxation
Notes
Meet at the stone bench sculptures
Bring water, a mat, a blanket and socks/jumper in case it's chilly!