BUA FIT Partner
Laura Lam
Laura is a BANT/CNHC registered Nutritional Therapist and Functional Medicine Practitioner

New webinar alert! Bounce Back from Veganism on the 28th June next Weds https://bua.fit/class/weKeH9p6ZyB5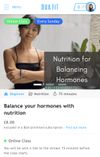 So excited to offer a workshop on balancing hormones with nutrition every Sunday starting from the 19th Feb! Do you suffer from PMS, irregular periods, hormonal acne, mood swings and more? This is the workshop for you!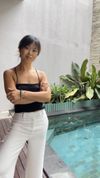 Hi everyone! I'm Laura and I've just joined BUA FIT as a partner and I'm here to show you how to harness your nutrition to help you hit your fitness and health goals.
I've got two webinars available so far so sign up! Let me know if this date and time works for you - any feedback is really appreciated!
Laura