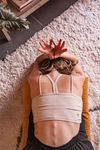 Mindful Flow with Yin
£8.00
Online Class
You will be sent a link to the stream 15 minutes before the class starts.
What you will be doing
The aim of this class is to restore peace and balance not just in our body but also mind. This class has an infusion of a yin practice while starting off with a gentle flow to warm up the body and smooth out any physical tension we might have. While the second half of this practice will allow us to bring focus towards deeper relaxation of our muscles and shifting our mindsets.
Routine
Warm-up focusing on the joints and spine; gentle flow sequence to warm up the body; floor sequence holding poses 2-5minutes (mostly reclined & seated positions); savasana (guided meditation)
Notes
*All level class, no experience is required. Please prepare props such as cushions, blankets, bolsters or blocks. Anything that you can use to support and soften the body. You can wear comfy clothes and prepare fluffy socks for the second half of the practice to keep yourself warm and cosy.

I'm a Vinyasa yoga teacher based in Hackney Wick, London. My classes offer creative sequencing adaptable to di...