Online Class
Every Saturday
Online Class
You will be sent a link to the stream 15 minutes before the class starts.
What you will be doing
Challenge yourself with HIIT Workout. The only equipment you will need is the best equipment ever-YOUR OWN BODYWEIGHT :)
📶All levels are welcome, as there will be regressions to all the exercises
🔥HIIT (High Intensity Interval Training) generally combine short bursts of intense exercise with periods of rest or lower-intensity exercise. The benefits of HIIT include burning calories, losing weight, and building muscle. HIIT can also help you lower blood pressure and blood sugar, while improving oxygen and blood flow
Routine
Warm-up: Light cardio to get your heart rate up, bit of mobility and stretching main muscle groups.
HIIT: 30-40 sec of intensive workout followed by 15-20 seconds rest/ 1v minute break between the sets to recover
Cool-down: Slow tempo exercises with post-stretches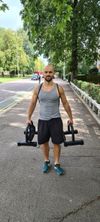 I love exercising outdoor and I love training people and bringing the best out of them. Your bodyweight is mor...