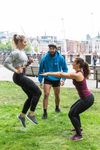 Ultimate Bodyweight Bootcamp 👊
£9.00
Included in a BUA Unlimited subscription - find out more
What you will be doing
Everything you need is inside you. Ditch dumbbells and deadlifts 🏋️‍♂️ and use your own body as resistance. Be your very own Mr Motivator fat incinerator with bodyweight postures and poses.
💪 Improve cardiovascular endurance and muscle strength in one sitting.
💪 Elevate your heart rate for fat burning bliss.
💪 The most efficient workout.
Every week is brand spanking new. Everyone welcome.
Routine
A warm up to set the pace. Expect long stretches and a cardio based warm up to boost heart health.
High intensity, interval training with a start and stop style of class.
We cool down with a walk, stretches and breathing exercises. You'll walk away from the group ready to take on the rest of your day feeling strong and accomplished 💪
Notes
Meet by the playground at the Pub on the Park

Refunds are available for all cancellations done at least 12 hours before the start-time
All BUA classes with no client bookings get removed from the platform 48 hours before the start-time.