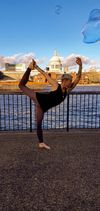 BUA Yoga Flow Mojo
£10.50
Included in a BUA Unlimited subscription - find out more
What you will be doing
Mindfulness to the max.
Slow and focused yoga flow for intermediate levels performed in the great outdoors.🌳🌍
Modification for each level will be offered, encouraging you to go at your own pace.
Let this class be your buoyancy aid this week. Grant yourself some peace. Love those limbs.😃
Routine
Expect a series of different poses and sequences to relieve stress and make you feel empowered. You will improve strength, core and flexibility.🤙
Notes
Set on the banks of the Thames, this beautiful public terrace overlooking the city is just 3 mins walk from Monument tube station, with London Bridge station just 0.4 miles away across the bridge.
Go to the pin and once you see the stairs with the sign stating 'public terrace river views', go up! The terrace is located at Saint Magnus House, 3 Lower Thames St, Bridge, London EC3R 6HE (51°30'31.3"N 0°05'09.3"W).
Please bring a mat.

Refunds are available for all cancellations done at least 12 hours before the start-time
All BUA classes with no client bookings get removed from the platform 48 hours before the start-time.