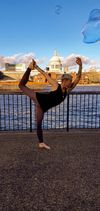 What you will be doing
Mindfulness to the max. As Gwyneth Paltrow consciously uncoupled, lets consciously decelerate together. Slow and focused yoga flow for intermediate levels performed in the great outdoors.🌳🌍 Modification for each level will be offered, encouraging you to go at your own pace. Let this class be your buoyancy aid this week. Grant yourself some peace. Love those limbs. Discover the geography of your own body. Learn to just be you.😃
Routine
Expect a series of different poses and sequences to relieve stress and make you feel empowered. You will improve strength, core and flexibility.🤙
Notes
Meet by the drinking fountain and bring your mat. We will then walk over to the lake for our practice.


Empowering fitness professionals to succeed and inspiring people to live a happier and healthier life.👊
All classes with no client bookings get removed from the platform 12 hours before the start-time.