Slow Flow Yoga & Words - Gentle Yoga with Storytelling & Creative Writing
£20.00
Online Class
You will be sent a link to the stream 15 minutes before the class starts.
What you will be doing
Join Writer Laurie Bolger and Yoga Teacher Gemma Bolger via Zoom for an evening of stretching and scribbling to wind down before bed.
London based Yoga Teacher Gemma Bolger and Professional Writer Laurie Bolger, guide you through a relaxing and restorative 90 Minute Session: Slow Flow Yoga with Words. This is not your usual yoga experience, in a peaceful safe environment we mix the flow of yoga and breath with calming extracts read from carefully chosen books. We end the session with a meditation and a moment to journal.
This unique experience allows you to enjoy yoga and meditation whilst soaking in these calming words and even writing a few of your own. This practice is both cleansing and creative, sending you into a blissful state of relaxation, switching off and getting ready to enjoy a good sleep. All levels are welcome.
"Grateful for new experiences, what a lovely afternoon, leaving very relaxed and happy - I will cherish today forever."
Laurie Bolger is a London based Poet and Playwright currently touring her debut collection 'Box Rooms.' Her work has featured at Glastonbury Festival, the Royal Albert Hall, TATE, Sky Arts and BBC platforms. Laurie has been running creative workshops for the past decade allowing people to celebrate their own unique voices.
Gemma Bolger founder of gem & i yoga, has practiced and taught worldwide and is delighted to bring her practice to all ages including kids, to various studios, gyms, schools, corporate settings, or the comfort of your own home.
Routine
You will need:
Your yoga mat or a soft surface to practice on A notebook and pen Cushions Blankets Comfy clothes (socks, pjs welcome)
Take some time to make your space as cosy as possible, bring a cuppa and dim those lights! Imagine you are setting up a chill-out den for your best friend who really needs it.
Cameras can be off/on and we will communicate via the chat box. Let's get cosy, we can't wait to practice with you.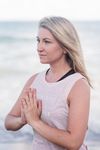 Gemma Bolger founder of gem & i yoga, has practiced and taught worldwide and is delighted to bring her practic...