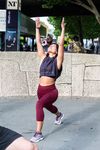 💣 War On Your Core 💣
£9.50
Included in a BUA Unlimited subscription - find out more
What you will be doing
A fit fest of abs training. Midsection MAYHEM.
Designed to get your stomach into battle mode. A strong core stabilizes the body and reduces neck and back pain. It is one area of our bodies that skyrockets self-confidence. Sign up for 6 weeks and you'll see the difference. 👀👀
Routine
A warm-up with dynamic stretches to limber up. Followed by increasingly intense bodyweight moves that torch the calories fast, we're talking 500+. Expect week-on-week definition and waist slimming. Cool down with static stretches, coupled with relaxation methods to de-stress completely.
Notes
Let's meet at the bandstand as denoted by the pin. Please bring water.

Refunds are available for all cancellations done at least 12 hours before the start-time
All BUA classes with no client bookings get removed from the platform 48 hours before the start-time.