Online Class
Community Class

Lose those lockdown pounds - Free Webinar
Community Class
Online Class
You will be sent a link to the stream 15 minutes before the class starts.
What you will be doing
As a registered Nutritionist (as well as yoga teacher) i can totally help you achieve healthy sustainable weight loss.
If you feel that those lockdown pounds have piled on and need some help to lose them then this free 45min webinar and q&a is just for you.
Especially now as research shows that maintaining a healthy weight is so important to support our immune system.
Here's a thought: every time you put something in your mouth think this: will this have a positive or negative effect on my health? And then make a choice. Sometimes the wrong food can be like putting petrol into a diesel car, so we just need to learn to put the right fuel into our bodies to nourish, sustain and energise us. I'm here to help you make the right choices.
Join me where I'll share some of my tried and tested tips on Monday 20th July @7.30pm
I hope to see you there, please share to anyone who could benefit x
Routine
Sign up essential so you dont miss out.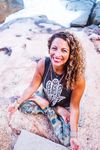 Mays has been teaching & studying yoga for the last 8 years spending years learning deep spiritual practises i...