What you will be doing
Accessible, addictive and effective. This is outdoor interval training for everyone.
Exercises are carefully selected so they can be regressed for those early on in their fitness journey or progressed for those looking to take their fitness to the next level. Work your way up through the levels, the progression you'll see will get you hooked.
Routine
Using the traditional Tabata format you will be doing body weight exercises interlaced with cardio boxing rounds. Topped off with some partner exercises to make sure you finish with a smile on your face
You can do anything for 20 seconds!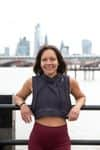 South London based group outdoor fitness enthusiast. Come and join me in the great outdoors for your regular e...