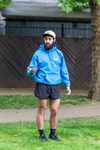 Run Like You Stole It 🏃🏼
£9.00
Included in a BUA Unlimited subscription - find out more
What you will be doing
Welcome to the cardio rodeo. Whether you're chasing a new marathon PB or running away from a dark past this is the class for you. An absolute riot of sprints, spurts and speed.
Routine
A high-intensity all-body blast designed to burn calories with bodyweight movements.
Notes
Meet by the entrance to the Rookery

Refunds are available for all cancellations done at least 12 hours before the start-time
All BUA classes with no client bookings get removed from the platform 48 hours before the start-time.