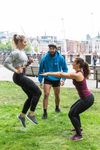 Glamour Burn Bootcamp 💪
£9.50
Included in a BUA Unlimited subscription - find out more
What you will be doing
Get ready to get in the best shape of your life 💪 Whatever your ability, join our group to condition, strengthen and tone those glamour muscles! You know the ones we mean: we work on the booty, arms and abs. 😍
We keep the energy levels high with pumping music and some high-intensity HIIT cardio training. It's fun, friendly and designed to make you super lean, whatever your level of fitness.
Join us outside to nail your fitness goals and make new friends.😁
Routine
Expect a high-intensity experience that will put you through your paces!
Notes
Meet by the entrance to the Rookery

Refunds are available for all cancellations done at least 12 hours before the start-time
All BUA classes with no client bookings get removed from the platform 48 hours before the start-time.