Online Class
Every Tuesday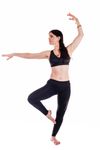 Shesensu
£7.00
Included in a BUA Unlimited subscription - find out more
Online Class
You will be sent a link to the stream 15 minutes before the class starts.
What you will be doing
Shesensu is a new fitness concept combining dynamic stretch, cardio and sculpt. It's intelligent design means you work every part of your body. The classes mixes Eastern and Western, Modern and Ancient all to a rhythmic soundtrack. You will leave feeling elevated and lifted.
Routine
breath work dynamic stretch Cardio Balance and stretch Floor Sculpt and Natural movements

20 years experience in the fitness and dance industry. International artist and trainer -18 countries travell...
Refunds are available for all cancellations done at least 12 hours before the start-time
All BUA classes with no client bookings get removed from the platform 48 hours before the start-time.