Online Class
Every Thursday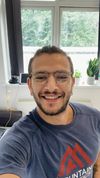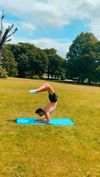 Beyond Pilates with Mito
£7.50
Included in a BUA Unlimited subscription - find out more
Online Class
You will be sent a link to the stream 15 minutes before the class starts.
What you will be doing
Get started with my 45' full body pilates inspired exercise routine. In this routine we focus on full body: Legs, bums & core. If it is your goal to be stronger, more flexible, fitter and in shape, this session is perfect for you. Hop on your mat and get ready for some beyond pilates! #noequipmentneeded
This is a series session, we train weekly on Tuesday 12.30pm & Thursday 12.30pm. For beginning I recommend you to join 1-2 sessions per a week to get stronger with me. My sessions will be on Zoom, limited to 8 people so I can give you personal feedback. It is important to me to make sure my clients are performing their exercise well without injury.
Routine
Warm up: Mobility & Flexibility // Strength exercise without equipment (only mat!) // Fat burning // Cool down

Hi! My name is Mito and I have been doing sports all my life. I started gymnastics at age 5 and played handbal...
All BUA classes with no client bookings get removed from the platform 48 hours before the start-time.