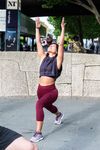 Sunday Recharge Yoga Flow 🌳
£10.00
Included in a BUA Unlimited subscription - find out more
What you will be doing
Join this friendly group at Streatham Common to recover from the stress of the week with the perfect workout. Come and connect with nature and new friends. Finish your weekend on a high by challenging yourself to focus on your breathing and strengthen your body and mind with a series of predominantly standing postures. You'll leave the class feeling refreshed, recharged and excited to join us again next time 🌳
Routine
A vinyasa flow class with predominantly standing postures
The class will finish with a 10-min meditation for deep relaxation, a perfect way to end the practice and your weekend!
Notes
Meet at the rookery and bring a mat.


Empowering fitness professionals to succeed and inspiring people to live a happier and healthier life.👊
All classes with no client bookings get removed from the platform 12 hours before the start-time.