Online Class
Every Tuesday
Sunrise Flow: Be Zen at 7am
£8.00
Online Class
You will be sent a link to the stream 15 minutes before the class starts.
What you will be doing
Be present.
Yoga that wakes you up from the inside. Join every week to fulfill a different intention. No two classes are ever alike and those who flow early doors are more likely to make it a habit. So, let's roll out of bed and onto the mat every Tuesday.
Everyone is welcome with modifications possible for all levels. Explore your strengths and stamina in a super safe and fun space.
Routine
Vinyasa means to move with breath, so expect transitions and seamless movements between poses. With a fast flow you'll break a sweat, build strength, and flexibility whilst boosting your sanity, one breath at a time.
Notes
Please bring a mat if possible and have water handy.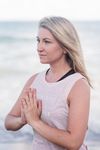 Gemma Bolger founder of gem & i yoga, has practiced and taught worldwide and is delighted to bring her practic...