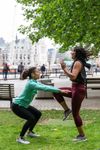 Rep It Like It's Hot: AmRap
£9.50
Included in a BUA Unlimited subscription - find out more
What you will be doing
Famous for the highest training volume packed into any exercise class out there. AMRAP helps you track progress due to its stringent structure - you'll noticeably be able to do more and more reps week in week out. The acronym means "As Many Reps As Possible," or more optimistically, "As Much Revelry As Possible".
A physical and mental mindset of 'give it your all or not at all' is completely compulsory.
Routine
Set a timer, cruise through a set of exercises, then REPEAT, REPEAT, REPEAT until you or time expire, whatever comes first.
You'll feel superhuman after this class.
Notes
Let's meet by the basketball courts. Please bring water.