HIIT Workshop on the Boardwalk🔥
£11.00
What you will be doing
What you will be doing
This class will guarantee you a solid start to your week. 💪
Everything you need is inside you. Ditch dumbbells and deadlifts 🏋️‍♂️ and use your own body as resistance. Be your very own Mr Motivator fat incinerator. Every week is brand spanking new. Everyone welcome.
Bodyweight exercises blast your biomotor abilities - improving mobility, stability, endurance and flexibility. With less stress on your joints than weight training, you can decrease body fat, improve VO2 max, and boost muscle mass with no twinges.
Routine
High intensity, interval training with a start and stop style of class. 😎
Notes
Meet at the pin point. Bring water 💦💪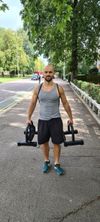 I love exercising outdoor and I love training people and bringing the best out of them. Check out my Instagram...