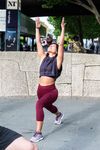 Bua Yoga 🤸‍♀️
£10.00
Included in a BUA Unlimited subscription - find out more
What you will be doing
Choose a morning workout that sets you up for a successful day 🤸‍♀️ This strength-based outdoor class brings together friends and yoga in a beautiful setting. We will work on core strength and flexibility while nurturing our connection with our minds and mother nature.
A fully qualified instructor will help you work within the limits of your body so that you leave feeling revitalised, with a spring in your step and calmness in your mind
Routine
Expect a series of different poses and sequences to relieve stress and make you feel empowered. You will improve strength, core and flexibility.

Refunds are available for all cancellations done at least 12 hours before the start-time
All BUA classes with no client bookings get removed from the platform 48 hours before the start-time.