Online Class
Every Wednesday


Tone and Stretch with Shakira
£8.00
Included in a BUA Unlimited subscription - find out more
Online Class
You will be sent a link to the stream 15 minutes before the class starts.
What you will be doing
An all over body toning class combined with stretching, with a focus on working on our balance, coordination and strength. This class is designed to keep you nice and supple and completely toned.
Have a mat and and broom/mop handle to use.
The perfect mid week evening workout.
Routine
45 minute class using a range of exercises to target the whole body. Starting with a warm up, moving into 10 minute work on lower body, 10 minute work on arms and 10 minute work on your core finishing with a cool down stretch all set to some banging tunes.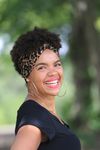 Hey welcome 👋🏾 I am here to keep you motivated to move and achieve. ⭕️ Curvy Hula Queen 🏋🏾‍♀️ Love liftin...
All classes with no client bookings get removed from the platform 12 hours before the start-time.