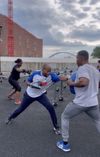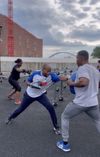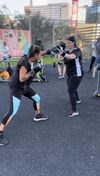 Boxfit
£10.00
Included in a BUA Unlimited subscription - find out more
What you will be doing
Deans BoxFit classes, are designed to focus on weight loss. Each class is a mixture of boxing and other bodyweight exercises to mix things up and keep things interesting. The benefits of doing my class, is that it is a full body workout and helps to build muscle and strength. Not only will you get a great workout doing my class, you will also be having fun at the same time.
Routine
Warm up for 5 to 10 minutes Workout is about 40 to 45 mins Cool-down/ stretching, about 10 mins
We will be doing a set of exercises with 40 seconds on each exercise and about 20 to 30 seconds rest in between.
Notes
Meet at the kid play area

It takes a strong mind to build a strong foundation. If you have a strong mind the body has no choice but to f...
Refunds are available for all cancellations done at least 12 hours before the start-time
All BUA classes with no client bookings get removed from the platform 48 hours before the start-time.