Online Class
Every Tuesday

Full Body Strength Express
£5.00
Included in a BUA Unlimited subscription - find out more
Online Class
You will be sent a link to the stream 15 minutes before the class starts.
What you will be doing
A Full body workout expect a combination of some bodyweight exercises along with strength training. A set of dumbbells and a mat required. No one class is the same!
Routine
Mobility warm Cardio round Strength rounds Cool down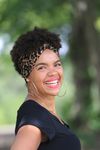 🚺Coaching Women 35+ 2 be strong, smash goals & feel🔥 Home Training 💜Menopause Champion. 💪🏾Express workout...
Refunds are available for all cancellations done at least 12 hours before the start-time
All BUA classes with no client bookings get removed from the platform 48 hours before the start-time.