What you will be doing
Awaken your whole body by going through this session💯
This session will be a combination of body weight resistance training and cardio moves to get that full experience🔥
Balance is the key so we will be alternating between upper body and lower body moves to get the most out of it💪
Routine
We will start with mobility exercises before moving into the main session.
Main session will start easy and will gradually progress.
The session will finish with cool-down and post stretches exercises.
Notes
Meet on the corner of the park, opposite co-op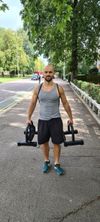 I love exercising outdoor and I love training people and bringing the best out of them. Your bodyweight is mor...