Core and Shoulder Workout
£8.50
Online Class
You will be sent a link to the stream 15 minutes before the class starts.
What you will be doing
The Core and Shoulders Workout was specifically designed to target all parts of the core including deep tissue core muscles and help you for a long-lasting solid core. With the combination of shoulder exercises you will have a greater presence and stronger shoulders which can help you with everyday tasks.
It is the third and final part of a series of workouts for more effective body transformation.
Book your spot.
Routine
Body weight training infused with dumbbells and resistance band exercises 40-50 seconds work and 10-20 seconds rest periods.
All exercises can be adjusted to any skill level.
Notes
Please have a yoga mat, resistance bands and/or weights and a water bottle handy if possible.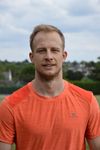 Strength& Conditioning Coach PT L3 British Amateur Boxing Coach L1 Sport Psychologist Masters - Student ...