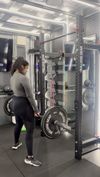 Sculpt & Burn 🔥
£11.00
Included in a BUA Unlimited subscription - find out more
What you will be doing
Dean's Fitness Classes are designed to help you shred the pounds through intense fitness training. Did you know HIIT classes are high intensity workouts that burn calories hours after your exercise? So, if you're ready to be pushed to your limits and see great results, sign up today!
Routine
Warm up 5 mins Workout 40 to 45 mins Stretch for 10 mins
40 secs on each exercise with 20 secs rest after each exercise.
Notes
Please bring water and a exercise mat

It takes a strong mind to build a strong foundation. If you have a strong mind the body has no choice but to f...
Refunds are available for all cancellations done at least 12 hours before the start-time
All BUA classes with no client bookings get removed from the platform 48 hours before the start-time.